The Lord Smith Medal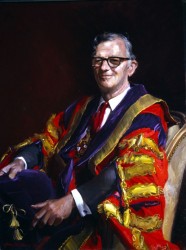 Former consultant surgeon St George's Hospital, London (b London 1914, the only son of a general practitioner and coroner in south London; q St Thomas's 1937; MS, FRCS; KBE), d 1 July 1998. Rodney Smith had a remarkable career as a surgeon, teacher, and administrator. After a distinguished time as a student at St Thomas's, where he also excelled at cricket (playing for the Surrey County 2nd XI), he embarked on a surgical career, training partly under the formidable and eccentric Philip Mitchener. Appointed surgical registrar at the Middlesex Hospital he was greatly influenced by (Lord) Webb-Johnson and (Sir Gordon) Gordon-Taylor. From 1941 to 1945 he served as a surgical specialist in the Royal Army Medical Corps, working in field units in Palestine, Egypt, and north Africa and being wounded at Anzio. In 1946 he was appointed to the staff at St George's, at a time when, like several other London teaching hospitals, that hospital did not usually fill its posts with outsiders.
He built an international reputation: At St George's he built up an international reputation in abdominal, particularly hepatobiliary and pancreatic, surgery. His skill in dealing with difficult cases of pancreatic cancer, postoperative biliary fistulae, retained calculi, bile duct strictures, and so on became legendary, and he devised mucosal hepatico-jejunostomy for hilar biliary strictures. He was that surgical precious rarity: a surgeon who could make a difficult operation look easy. To watch him dissect with apparent effortlessness an abdomen that had been subjected to several laparotomies was a sight that no surgeon could forget. His lectures and writings were models of clarity, and with Charles Rob he edited the multivolume Operative Surgery, which soon became a standard reference.
Rodney Smith devoted much of his energy to the Royal College of Surgeons, serving as Penrose May Tutor and dean of the Institute of Basic Medical Sciences, and being elected a councillor in 1965. On the sudden death of Sir Edward Muir in post he became president of the college (1973-1977). He was granted a special three years and nine months rather than the usual three years in office, and there were even proposals that (unconstitutionally) he should stand and for a further term. Here his abilities as a wise and skilled administrator became fully apparent. It was a time of heated arguments between the profession and the secretary of state, Barbara Castle, about private hospital beds and supportive strikes by hospital domestic staff
The Lord Smith Medal is awarded annually to the trainee who, in the opinion of the selection committee, gives the best oral presentation. It was first awarded in 1987 and is named after the first president of the society, surgeon Sir Rodney Smith latterly Lord Smith of Marlow. It was originally called the Rodney Smith Prize.
LORD SMITH MEDAL WINNERS
2011: Dr Jo Tod
2010: Dr Natalie Cook
2009: Dr Rajarashi Mukherjee
2008: Miss Jenny Chen
2007: Dr Rajarashi Mukherjee
2006: Dr John Murphy
2005: Mr Damien Mole
2004:
2003: Dr Chris McFaul
2002: Mr Zak Rahman
2001: Mr Jeremy French
2000: Dr Fanny Shek
1999: Mr Mike Raraty
1998:
1997:
1996: Professor Nick Lemoine, London
1995: Dr N K Green
1994: Mr S Falconer
1993: Ms Laura Formela
1992: Mr Mike Larvin
1991: Mr P Curley
1990: Mr Malcolm Aldridge
1989: Mr Robert Sutton
1988: Mr A M Gudgeon
1987: Mr John Neoptolemos