2019 Sponsors
Thank you to our 2019 Sponsors
Our Gold Sponsors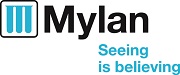 At Mylan, we are committed to setting new standards in healthcare. Working together around the world to provide 7 billion people access to high quality medicine, we:
Innovate to satisfy unmet needs, Make reliability and service excellence a habit, Do what's right, not what's easy, Impact the future through passionate global leadership.

Founded in Lyon, France in 2004, ERYTECH is a clinical-stage biopharmaceutical company developing innovative therapies for rare forms of cancer and orphan diseases. Leveraging its proprietary ERYCAPS platform, which uses a novel technology to encapsulate therapeutic drug substances inside red blood cells, ERYTECH has developed a pipeline of product candidates targeting markets with high unmet medical needs. ERYTECH's initial focus is on the development of products that target the altered amino acid metabolism of cancer cells, depriving them of nutrients necessary for their survival.
Sponsors

Boston Scientific is dedicated to transforming lives through innovative medical solutions that improve the health of patients around the world. Our commitment to transforming lives through meaningful innovation is more than a goal, it's how we're advancing science for life. We're fulfilling our brand promise by focusing on solutions that matter most, pursuing excellence and collaborating with healthcare professionals.
At Olympus Medical Systems, we focus on improving patient care quality every day. We do this through developing and designing world-leading, clinically-advanced, precision technologies and services. Our products enable healthcare professionals, from a broad range of specialties, to 'peer' inside the body, using endoscopic procedures. This allows them to see more and do more. By focusing on early detection and minimally invasive treatment of a broad range of diseases, our mutual mission is to improve patient outcomes, minimize discomfort, and accelerate the recovery process.

is an innovative biotech company that is active in the field of development, production and marketing of diagnostics. The manufacturing of our leading products is matched exactly to satisfy of our customers. The company was founded by the biochemists and molecular biologists Ursula Scheefers-Borchel, Ph.D., and Hans Scheefers, Ph.D. Continuous innovation, strong customer focus and creative problem solving have made the company a worldwide leading manufacturer of unique products.